The rise of digital banking over the past decade has fuelled a lifestyle revolution. The emergence of chip and pin, contactless cards, digital wallets, online banking and mobile apps have made life more convenient for many.
However, this digital transformation has also driven major changes to our cash infrastructure. Bank branches have closed at an electric pace, free-to-use ATMs have declined, accessing and depositing cash have become more challenging for both individuals and small businesses.
In the decade from 2008-2018, the proportion of cash payments halved. Even prior to the Covid-19 pandemic, it was clear cash was no longer king. The pandemic has now turbocharged the 'dash from cash' with cash withdrawals down by around 40% since March 2020. On the surface, it may seem like the end of the road for cash.
But is that the case? Are some people more prepared for a digital economy than others? How will the cost of living crisis impact cash use? Do different regions face different challenges when it comes to cash?
The RSA's recent study, The cash census, has surveyed over 3,000 people and ran a series of focus groups and interviews to better understand differing attitudes to cash.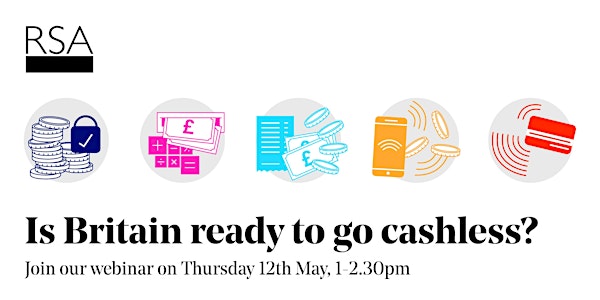 Join the RSA for their online webinar, where they will present the findings from this research. Attendees will also hear directly from people on their attitudes to cash and digital payments, along with an expert panel debate, interactive poll, and Q&A.
Funded by LINK Scheme Ltd the RSA's study is the most comprehensive report on cash since Natalie Ceeney CBE's 2019 Access to Cash Report. The event will be chaired by Dr Al Mathers – Director of Research at the RSA.
Speakers will include:
Natalie Ceeney CBE, Chair of the Cash Action Group (CAG) and leader of the Access to Cash Review in 2019
Mark Hall, Lead author of The cash census report, RSA
Nick Quin, Head of Financial Inclusion at LINK – the UK's largest ATM network.
Register for the webinar to be held on the 12 May: Is Britain ready to go cashless?
On the same subject here's some more resources to check out:
Remaking a mint: Why the Royal Mint decided it's time for change – as cash usage continues to decline, here's how the 1,100-year-old institution is transforming itself for the future.
The big idea: Should we embrace a cashless society? by Natasha de Teran and Gottfried Leibbrandt.
In praise of the dollar bill – Lana Swartz considers that digital payments increase convenience but exacerbate inequality and asks it time to reconsider cash?
Hello? Is anyone there?! Phil Kenworthy and Jannah Patchay ask: Why is the UK retail payments landscape so unprepared for a digital Pound?