Weekly ATM value and volume figures 29 November 2020.
Key observations for week ending 29 November:
Last week ATM transactions increased by 1.2million (when compared to the previous week).
Last week's ATM transactions were 22million less than the equivalent week in 2019.
Weekly ATM use has reduced by 44% (compared to equivalent week in 2019).
From 1 December all trackers will feature as part of the Payments, Payments, Payments premium newsletter – subscribe now with 20% off: https://northeypoint.substack.com/2f72dfb7
Weekly LINK ATM transaction volumes
The latest figures from LINK show the continued effect of the UK's transition to digital payments and the latest lockdowns on ATM and cash use.
Last week saw a total of 27.9 million ATM transactions which represents a modest increase of 1.2million ATM transactions over last week (although a massive reduction of 22million transactions when compared with the equivalent week last year).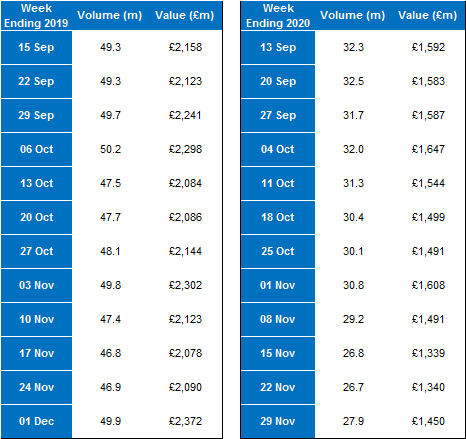 Source: LINK
Lockdown 1.0 vs Lockdown 2.0
The graph below demonstrates that post Lockdown 1.0 the weekly volume of ATM transaction rose from a low point of 20 million to circa 30 million to the point we entered Lockdown 2.0.
However, the latest weekly figures from LINK highlights the effects of Lockdown 2.0 which shows an initial significant reduction in the use of ATM's to 26million transactions per week followed by a slight uptick over the last couple of weeks.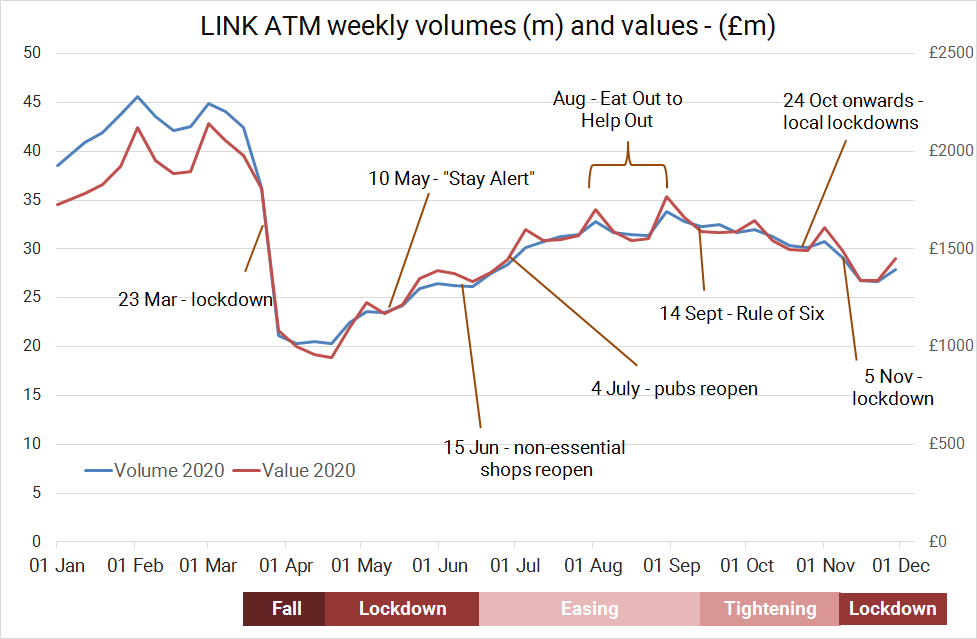 The latest chart from LINK now tracks volume (blue) and value (red) – over the following weeks we'll continue to track the impact of Lockdown 2.0 on our cash and digital payment habits.
The final weeks of 2020 (especially the traditional seasonal end of year impact of a temporary dip of circa 10 million transactions a week) will be fascinating.
Daily ATM Values
With everyday feeling like Groundhog Day, our daily cash use profile has certainly changed – however the above graph (not updated this week) from LINK shows that, for those that still use cash, the amount of cash being withdrawn each visit is also reducing.
The Groundhog Day feeling is certainly having an impact on our weekends – on the 14th November ATM use was down by a massive 46%.
Daily LINK values when compared to previous years are below – the next few weeks as come out of Lockdown but remain in Tiers will be interesting especially in the run up to Christmas.
Weekly LINK ATM transaction volumes
Last week ATM volumes reduced by 44% (compared to 2019).
Monthly LINK ATM transaction volumes
Monthly LINK ATM transaction volumes for October were 138million.
After a partial post Lockdown 1.0 recovery volumes have now been static over the last four months.
Predictions
It's only four weeks (#IOFW) but will this Lockdown period be a crucial time for cash in the UK?
After a short initial surge, how will the various restrictions in Scotland, Northern Ireland, Wales and England impact ATM withdrawals and the use of cash over the final weeks of 2020?
Rolling volume change (compared to 2019):
w/e 11 October 2020: -34%
w/e 18 October 2020: -36%
w/e 25 October 2020: –37%
w/e 1 November 2020: -38%
w/e 8 November 2020: -38%
Rolling value change (compared to 2019):
w/e 11 October 2020: -26%
w/e 18 October 2020: -28%
w/e 25 October 2020: -30%
w/e 1 November 2020: -30%
w/e 8 November 2020: -30%
Read, subscribe and share
From 1 December all trackers will feature as part of the Payments, Payments, Payments premium newsletter – subscribe now with 20% off: https://northeypoint.substack.com/2f72dfb7